James Kirszrot, MD
Ophthalmologist/ Oculoplastics Specialist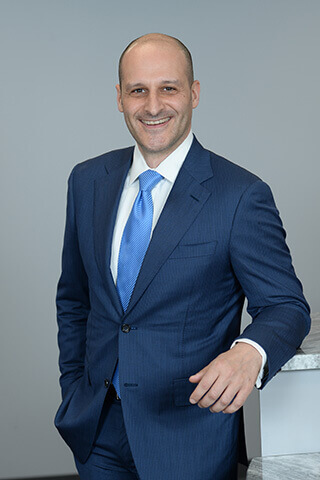 James Kirszrot, M.D. is an oculoplastics specialist who joined Eye Care Associates of New Jersey in June 2011. His areas of expertise involve medical and surgical treatment of conditions affecting the eyelids, the lacrimal (tear duct) system, and the orbit (eye socket). This includes eyelid position defects, ptosis (lid droop), and growths and cancers around the eye.
Dr. Kirszrot also specializes in cosmetic eyelid surgery and has extensive experience performing blepharoplasty surgery ("eyelid lifts"), midface lifts, surgery to remove "lower lid bags", as well as using Botox and fillers such as Restylane and Juvederm to treat facial wrinkles.
Dr. Kirszrot completed his undergraduate training at Cornell University and received his M.D. degree at Albert Einstein College of Medicine in 2001. After completing his residency in ophthalmology at New York Presbyterian Hospital- Cornell Medical Center, he moved to Boston to complete a two-year highly specialized fellowship in oculofacial plastic and reconstructive surgery at the prestigious Massachusetts Eye and Ear Infirmary/Harvard Medical School. Subsequently, he remained at Harvard as a clinical instructor, teaching residents and medical students surgical techniques of oculofacial surgery. After several years, Dr. Kirszrot decided to return to his hometown of New York City.
Dr. Kirszrot has authored numerous journal publications and textbook chapters related to the field of oculofacial surgery. In addition, he has lectured on this topic at national meetings. He is board certified by the American Board of Ophthalmology. During his free time, he enjoys skiing, SCUBA diving, and spending time with his wife Emily and son David.
Dr. James Kirszrot's Curriculum Vitae
Professional
Private Practice, Eye Care Associates of New Jersey, Ophthalmologist/Oculoplastics Specialist, 2011 – present
Academic and Administrative Appointment
Research Assistant, Cornell University Department of Ophthalmology, 2003 – present
Education
Doctor of Medicine, Albert Einstein College of Medicine of Yeshiva University, 2001
Bachelor of Science, Biology, Cornell University, 1997
Hospital Affiliation
Valley Hospital, Ridgewood, New Jersey
Chilton Medical Center, Pompton Plains, New Jersey
Internship
Internal Medicine, St. Luke's Roosevelt Hospital, 2002
Fellowship
Dept of Ophthalmic Plastic, Orbital & Cosmetic Eyelid Surgery, Massachusetts Eye and Ear Infirmary
Clinical Medical Training
Ophthalmology Residency, New York Presbyterian – Cornell Medical Center, 2005
Professional Societies
Member, American Academy of Ophthalmology
Publications
Savar A, Kirszrot J, Rubin PA. Canalicular involvement in dog bite related eyelid lacerations. Ophthal Plast Reconstr Surg. 2008 Jul-Aug;24(4):296-8. doi: 10.1097/IOP.0b013e318177e21f.
Kirszrot J1, Rubin PA. Invasive fungal infections of the orbit.Int Ophthalmol Clin. 2007 Spring;47(2):117-32.
Abramson DH, Beaverson K, Sangani P, Vora RA, Lee TC, Hochberg HM, Kirszrot J, Ranjithan M. Screening for retinoblastoma: presenting signs as prognosticators of patient and ocular survival.
Languages