Oculoplastics
Eyelid Surgery Elmwood Park & Bergen County
Meet Your Oculoplastics Surgeon, Dr. Kirszrot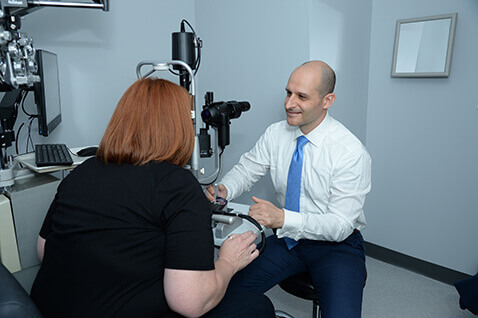 Dr. James Kirszrot is a board-certified Ophthalmologist and Oculoplastics Specialist and one of New Jersey's top cosmetic, corrective, and reconstructive eye surgeons. He joined Eye Care Associates of New Jersey in June 2011. Dr. Kirszrot speaks English, French, and Hebrew.
Dr. Kirszrot's areas of expertise involve medical and surgical treatment of conditions affecting the eyelids, the tear duct system, and the orbit (eye socket). He also has extensive years of experience in blepharoplasty surgery (commonly known as an eyelid lift), midface lifts, removing lower eyelid bags, and utilizing fillers like BOTOX and Juvederm to rid of facial wrinkles. He believes every person should look as great and as young as they feel! Read Dr. Kirszrot's full bio here.
Eyelids
Blepharoplasty, commonly know as an eye lift, is a process to fix sagging or drooping of the eyelids and remove excess fat, skin, and muscle. As you age, it is common to see a difference in your eye area — more laxity, bags below and above the eye; sometimes so much that the upper lid seems to hide underneath the extra fatty area under the brow bone. Even if you use good skincare and eye care, wrinkles, puffiness and drooping eyelids will occur. Genetics and body chemistry can cause these effects to occur in younger people. Blepharoplasty can give a more youthful appearance to an older, tired looking face.
Watch below!
1) Is Plastic Surgery for Me?
2) Blepharoplasty Overview
3) Trivia: Cosmetic Surgery Average Age
BOTOX
BOTOX is a non-surgical, aesthetic treatment for moderate to severe frown lines. BOTOX reduces the contractions of the muscles that cause frown lines that, over time, have developed.
It's a 10-minute treatment, with a few tiny injections, and within days there's a reduction to moderate and severe frown lines between the brows, which can last up to 4 months. In clinical trials, 90% of patients surveyed rated the improvement in the appearance of frown lines between their brows as moderate to better after 1 month of the treatment.
[Photo Credit: Botoxcosmetic.com. Before-and-Afters | BOTOX® Cosmetic (onabotulinumtoxinA) [Internet]. 2015 [cited 2015 Jun 1]. Available from: http://www.botoxcosmetic.com/Before-And-After#isi]
Juvéderm
Juvéderm is the next big thing of dermal fillers. It is created by Allergan – the same manufacturer of Botox. Juvéderm creates a smooth, long-lasting solution to moderate to severe facial wrinkles and folds.
Juvéderm is made using HYLACROSS™ technology, creating a smooth gel. It is also infused with lidocaine to comfort patients during treatment. Juvéderm is administered with a smooth-slow injection, allowing your provider a high level of control for individualized, tailored facial contouring to achieve a natural look when finished. The procedure takes only a few minutes. The results are practically instantaneous. With Juvéderm the results will last for up to a year!
[Photo Credit: Juvederm.com. Before & After Results With JUVÉDERM® [Internet]. 2015 [cited 2015 Jun 1]. Available from: http://www.juvederm.com/juvederm-results/before-after.aspx]
Latisse
Most people want full, long, beautiful eyelashes. Most women will spend tons of money on department store products to thicken, lengthen, darken or even grow back eyelashes. Some will pay dearly to have the popular eyelash extensions applied by a beauty industry professional. Others can't seem to ever grow eyelashes like they so desire.
Now, an FDA-approved product (available by prescription only) has been created to increase eyelash growth and to help promote longer, fuller lashes.
When applied daily to the base of your upper eyelashes, the solution makes lash growth possible from a result of an active ingredient known as bimatoprost. Research suggests that bimatoprost can increase the growth of eyelashes or even grow back eyelashes by increasing the amount of hairs and prolonging the hair growth phase. This allows you to grow eyelashes that will be longer, thicker and darker.
[Photo Credit: Latisse.com. Real Women Gallery [Internet]. 2015 [cited 2015 Jun 1]. Available from: http://www.latisse.com/RealWomenGallery.aspx]
Restylane®
Restylane® can be used to add volume and fullness to the skin to correct small to severe facial wrinkles and folds, like the lines from your nose to the corners of your mouth (nasolabial folds). For patients over 21 Restylane® may also be used for lip enhancement. Treatment with a product from the Restylane® family typically takes an hour or less (individual treatment times may vary). Usually, there is little to no downtime associated with treatment using Restylane®.
Your doctor will cleanse and prepare the area to be treated. The clear gel in the Restylane product is injected into the treatment area using an ultra-fine needle to give the desired aesthetic effect. Restylane® instantly adds volume to help bring back youthful contours. You'll see results instantly after your treatment.
You might experience some swelling, redness, pain, bruising, or tenderness after treatment. These are usually mild and normally last only 7 days in nasolabial folds and fewer than 14 days in lips. Talk to your doctor to see if Restylane is right for you!
Eyelid Surgery Consultation
For a private blepharoplasty consultation, contact our practice today to learn if you are a good candidate for eyelid surgery.