Adam S. Friend, MD
Glen Rock Ophthalmologist, Eye Surgeon, Corneal Specialist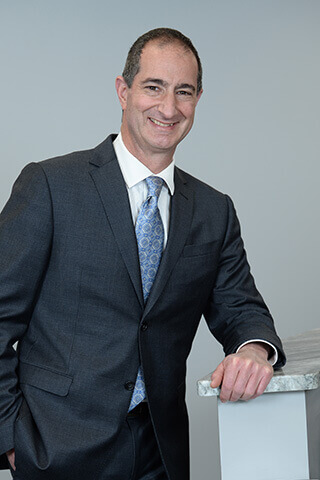 Dr. Adam S. Friend joined the practice in 1998 and became the surgeon for Eye Care Associates of New Jersey. Whether in the operating room or the office, he enjoys the camaraderie of his patients and co-workers. He loves the many technologic advances in the field of ophthalmology and attends courses around the country in order to bring those techniques to his patients.
We combine our unique personal touch with the most modern technology, years of experience, and advanced cornea fellowship training to provide the best possible eye care.
After graduating from the Ivy League's Brown University, Adam attended the Albert Einstein College of Medicine. He interned at the New Rochelle Hospital Medical Center before completing his ophthalmology residency at the State University of New York Health Science Center at Brooklyn, where he was elected Administrative Chief Resident his senior year. Afterward, he did fellowship training in cornea surgery and disease at the University of Texas Southwestern Medical Center and became Board-certified by the American Board of Ophthalmology.
Adam regularly lectures in the community about eye diseases and treatments. He is a member of the American Society of Cataract and Refractive Surgery and the American Academy of Ophthalmology. He currently serves as medical director of the Bergen Passaic Cataract Surgery & Laser Center and is the former Associate Director of Ophthalmology at the Valley Hospital. He is a past recipient of the American Association for the Advancement of Science and Engineering Mass Media Fellowship and had volunteered his time and expertise as a participant in the Volunteer Health Program's charitable mission to Honduras.
Dr. Adam S. Friend relishes spending time with his wife and three young sons and enjoys traveling, playing and watching sports, dining out, and coaching youth sports.
Dr. Adam S. Friend's Curriculum Vitae
Professional
Private Practice, Eye Care Associates of New Jersey, Ophthalmologist/Eye Surgeon
1998 – present
Academic and Administrative Appointments
Medical Director, Bergen-Passaic Cataract and Laser Surgery Center, 2010 – present
Associate Director, Department of Ophthalmology, Valley Hospital, New Jersey, 2004 – 2008
Lecturer, Centro de Oftalmologico de Valencia (2nd Reunion), Venezuela, 1998
Administrative Chief Resident, SUNY Brooklyn, 1996 – 1997
Education
Doctor of Medicine, Albert Einstein College of Medicine of Yeshiva University, 1993
Bachelor of Arts, Major in Biology, Brown University, Rhode Island, 1989
Hospital Affiliation
Valley Hospital, Ridgewood, New Jersey
Internship
Internal Medicine, New Rochelle Hospital Medical Center, 1993-1994
Residency
Ophthalmology, SUNY Brooklyn, New York, 1994-1997
Fellowship
University of Texas Southwestern Medical Center, 1997-1998
Honors and Awards
Healthgrades Honor Roll
Patient's Choice Award (2013)
Compassionate Doctor Recognition (2013-2014)
Professional Societies
Diplomat, American Board of Ophthalmology
Member, American Academy of Ophthalmology
Member, American Society of Cataract and Refractive Surgery
Member, New Jersey Academy of Ophthalmology
Languages
English (fluently read and write)
Spanish (conversational, medical)